Today my heart goes out to all of those whose lives were affected 12 years ago in a monstrous attack on my favorite city. Today my heart is in NYC and with everyone whose lives changed that day.
***
After 3-4+ months of having RSS issues and getting the run-around from WordPress, my hosting site, Bloglovin and Inlinkz, I finally got everything squared away. Thanks to the AMAZING help from WPsitecare.com, my posts are finally feeding on Bloglovin' and I can finally link up again to What I Ate Wednesday!!!
If you're on WordPress and ever run into issues with your site, I highly recommend Ryan and his team. I contacted Ryan early Friday, and throughout the day and weekend his team hunted down the issue and resolved it, keeping me updated throughout the day.
It's an amazing feeling to have the entirety of Running on PB healthy!
It's also amazing to wear a cooling eye mask. Party on my face. And people wonder why I'm single. 😉
Now, on to an event I have been waiting light years to participate in again. What I Ate Wednesday, hosted by the new momma, Jenn.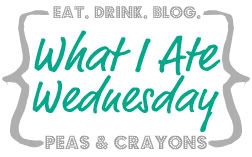 Lately I'm on weird breakfast kick, which includes a sort of spin on Chinese Pie… or Shepherd's Pie, whatever boat you float on. My rendition is really gross looking, but also really spot on.
Ground turkey mashed up with sweet potatoes. And a side of frozen sugar snap peas. Out of this world. Until I get sick of it, this is what I eat every.damn.morning. (Side note: my computer isn't allowing me to add the image so I will add it from my laptop on my lunch break).
Lunches and/or dinners have revolved around turkey spaghetti (squash). Karey got me rehooked on my spag.squash addiction, and I haven't looked back since. 1 cup of spaghetti squash, 4 oz ground turkey and salsa. Easy, delicious and filling!
Snacks, however, are my favorite part of the day. Any excuse to eat fruit with nut butter is  the perfect time of day.
Banana slices + sun butter = perfection. This was my after-work/pre-dinner snack.
Another snack favorite is nut butter stirred in greek yogurt. I'm addicted to this sunflower seed butter and go through 2 jars a week. Hey, if it fits your macros, right? 😉 It doesn't hurt that the sunbutter is only $3.68 at Walmart… a steal!
I had a coupon for Dannon Light & Fit Greek yogurt, so I stocked up. I'm loving their flavors, except this banana cream was just a little too sweet for me.
Now on to pressing matters in my life. I have always been anti-hitting on people at the gym, but there is one guy that reminds me of a lean and wicked cute(r) version of Chuck Liddell. Omg. He runs runs runs and then does 1,000 pull-ups and other sexy exercises. I have this intense need to pinch his butt talk to him.
If there is ever a post to comment on, it is this one. Operation befriend Chuck Lidell's twin has begun and I need your tips/advice/warnings, etc.
In non-man crush news, tonight is class #3 of Crossfit Elements, and I am excited to get tortured as my body has finally recovered from Saturday's workout. Bring it on Mat.  I hope he doesn't read this until after the class.
What are your thoughts on talking to the opposite sex at the gym?
I'm all for strictly working out, but what if this man is my soulmate?! 😉
Links in this post:
http://www.peasandcrayons.com/2013/09/what-i-ate-wednesday-138.html
http://www.peasandcrayons.com/2013/09/what-i-ate-wednesday-138.html